Tips for matching shoes and socks
2021-11-05 14:42:31

A pair of fashionable and cheap socks can not only add the finishing touch to your clothing style, but also make your style become diverse with the choice of socks length. So, how to match shoes with short, medium and long socks?
On the home page, let's first understand the length of the socks:
1. Boat socks are also known as invisible socks: hidden in the shoes, you can't tell from the outside whether you are wearing socks. Many people now choose this type of socks. This is the easiest way to match, super easy. Loafers, sailing shoes, lazy shoes, peas shoes, etc. generally match this kind of socks.
2. Socks: Socks that are lower and or slightly higher than the bare toes. Generally matched with casual shoes, sports shoes, etc.
3. Mid-tube stockings: more than half of the calf or lower than the calf. Generally matched with high top
Shoes, mid-top shoes, sports shoes, etc.
4. Stockings: higher than the calf. Generally matched with dresses, short skirts, shorts, etc.
Tips for matching shoes and socks

1. When encountering thick flat soles or short boots, the exposed length of the socks should be less than 5cm beyond the ankle boots.
2. For patent leather, reflective leather, grain calfskin and other high-quality ankle high-heeled boots, in order to increase the overall high-level texture. Regardless of the reflectivity of the upper, the socks used in the ankle-length high-heeled boots should expose 2cm.
3. When encountering high-heeled boots of special materials, such as transparent, snow boots, etc., remember that the height of the socks should not be exposed, otherwise it will increase the visual burden! Of course, if it is an ankle boot with a metal surface material, you can generously consider putting socks inside. The exposed height of the socks should be less than 5cm in the middle and low heels and less than 2cm in the high heels.

How to match shoes and stockings

White stockings with Martin boots
Stripe elements are prevalent this year, and a pair of white stockings should be available for girls as a girl. There are classic retro patterns on the socks, and they are wearing academic style and pure temperament, and the camel Martin boots are very long. Wear more socks and pile socks on your ankles, which is very popular.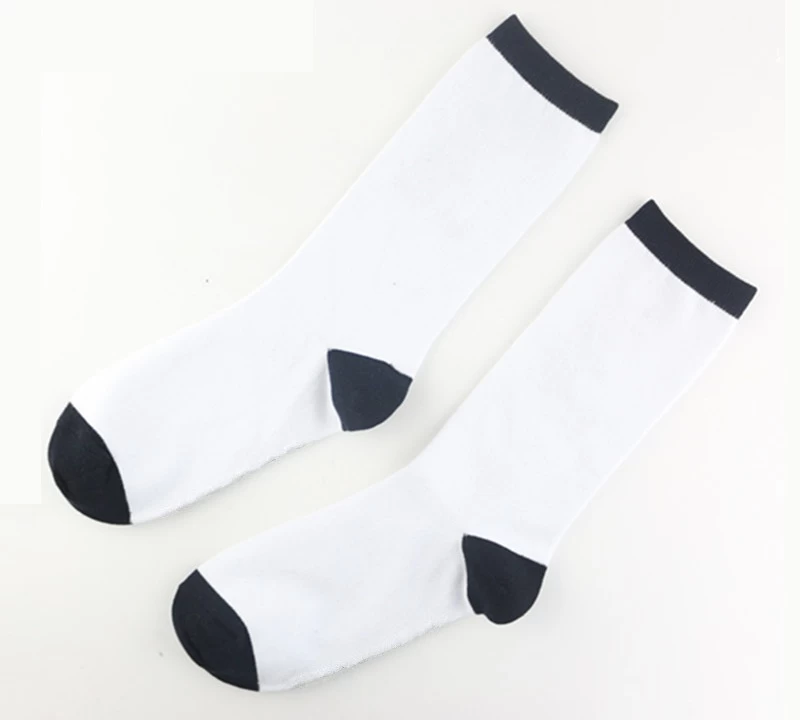 China blank socks for printing on sale
Stitching stockings with peasy shoes
The stockings are cold-proof and fashionable, and the splicing design cannot be praised. As the saying goes, "no color is not beautiful", if you want to change yourself, you might as well start from now on with simple color matching and a pair of peasy shoes. Cute and stylish.

Black stockings with single shoes
Black stockings can definitely bring a slimming effect to your thighs, and they are also versatile in matching clothes. If you want to look thinner, you can consider casual shoes that fit your ankles to show the ankles beautifully, and the slim curve must be dressed up.

Black stockings with cloth shoes
Slim, tall and white stockings are the most suitable item for work or casual dating. Pairing with canvas shoes gives you youthful temperament and shows your figure even more. It is also very fashionable to match.