The story of socks —— Visit the Beijing Risheng socks culture museum 1
Kobe Yin 2018-01-29 09:32:33
"Socks, foot and clothes." To protect the feet and beautify the feet. Although we wear socks every day, what is the culture behind it, but few people mention it? There is a hosiery culture museum in yan village, Beijing. With curiosity, we walked into the Beijing Risheng socks culture museum. Jixingfeng socks manufacturer the most excellent socks knitting company, which provide you with
antibacterial socks manufacturers
.
Stepping into the museum gate, a purple, pink and white color "sculpture" came into view. It is a three-dimensional fiber column, gently stroked and soft. It is designed by Mr. Lin le cheng, master of arts and crafts of our country, all of which use yarn, cotton and other textile materials. Jixingfeng the socks knitting specialist,
antibacterial socks maker
.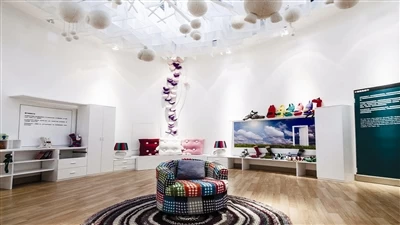 According to li lei, founder of the socks culture museum, the head of the company and the general manager of Beijing Risheng socks company. The 3,200-square-meter museum has a history museum, a science museum, an experience hall, a pavilion and a "hall of the heart".The space design of the five halls is a petal shape, which is tightly integrated with two hearts. The center is a circular "heart hall". The whole design is meant to convey love and warmth. The museum exhibits more than 1,000 pieces of the collection. Most of these collections are li lei's years of searching and gathering around the world. The entire pavilion cost more than 6 million yuan from the construction to the exhibition.
If you want to get more information about Jixingfeng socks manufacturer, you can click
deodorant socks factory
. We do OEM and ODM,export to Europe,North America,Oceania and Asia.