Design of digital printing socks and requirements for materials
2021-11-11 11:50:42
Pattern design
Socks have different styles, different colors, and different patterns. This requires designing according to different market needs. The design of socks patterns belongs to graphic design. There are roughly the following categories of graphic patterns: still life patterns, animal patterns, character patterns, geometric patterns, ethnic patterns, festival patterns, text patterns, camouflage patterns, cartoon patterns, graffiti patterns, etc.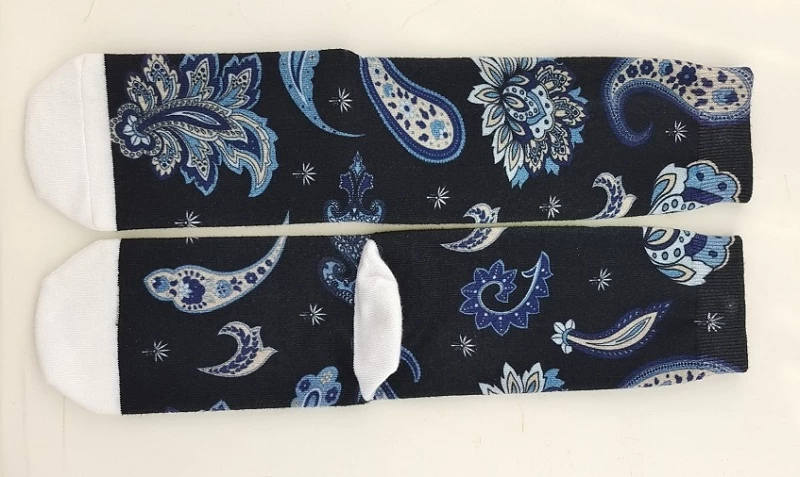 Fashion Design Socks On Sale Supplier, the pattern design of printed socks gets rid of the limitation of socks machines, makes the types more diverse, and the color matching is richer, thus making up for the vacancy of popular elements in the application of socks. At the same time, it adds personality and texture to the clothes, and satisfies the fashion industry who pursues individuality Human needs.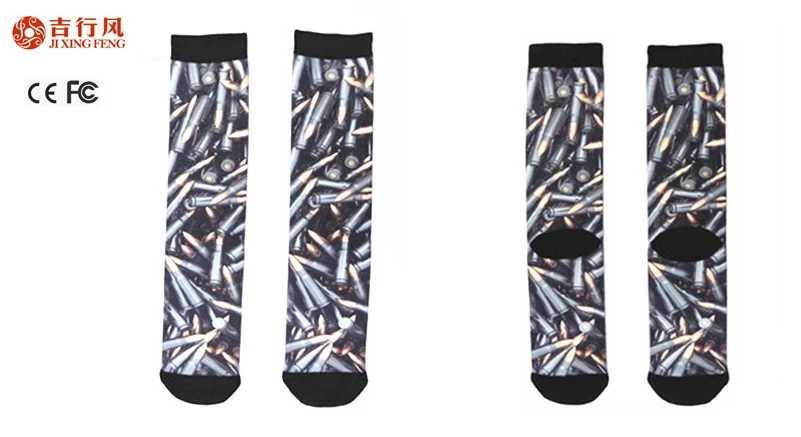 3D Digital Print Sublimation Socks Manufacturer

The influence of material on printing effect

Common socks fibers include cotton, combed cotton, mercerized cotton, spandex, Lycra, nylon, nylon, acrylic, polypropylene, polyester, viscose, tencel, bamboo fiber, modal, hemp, etc. Generally, the public likes to choose pure cotton socks, because cotton socks absorb sweat and breathe, and feel comfortable to wear. However, printing patterns on cotton sock embryos will first greatly reduce the brightness and purity of the colors, which will not achieve the desired effect. Followed by the cotton printed socks will continue to fade during the washing process. Therefore, whether digital printing socks are 360° paperless printing or with paper heat transfer, polyester is generally used for socks. Polyester printed socks have bright and full colors, clear and fine patterns, and natural and rich layers. However, the fly in the ointment is that polyester socks do not absorb sweat and have poor air permeability, which is not suitable for people who sweat a lot.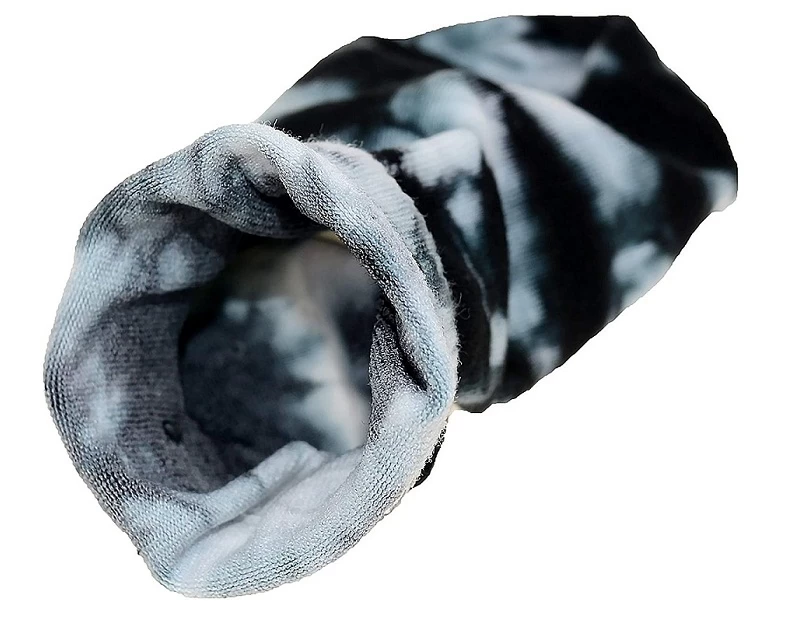 China Blank Socks for Printing On Sale

Digital printing socks are faster than traditional jacquard socks, and the cost of proofing is lower. Customers can remotely send printing samples through modern means such as U disk and email. Printed socks can be sampled within one working day, while the proofing of traditional jacquard socks takes 2 to 3 days. Because of the advanced technology that can realize seamless socks patterns, it is also called 360° seamless printing. It solves the problem of putting on and taking off the complicated pattern in the traditional jacquard process caused by many, messy, and messy threads, and at the same time avoids the problem of insufficient horizontal stretch of the socks caused by rich color changes.