What are the socks with non-slip rubber? What does it do?
2021-09-09 14:52:34

The anti-slip glue of anti-slip socks is evenly distributed on the bottom or surface of the socks, so that each contact surface can increase stability. Let me introduce to you what non-slip socks are available.
1. Non-slip boat socks

When summer arrives, many women choose to wear boat socks, but it is easy to fall off when wearing boat socks. How to prevent boat socks from falling off? Buy boat socks with non-slip belts. The heel of the non-slip boat socks will have a non-slip belt, so that the boat socks will not fall off easily when worn on the foot.
2. Non-slip over-the-knee socks

The little sisters who like to wear knee socks probably have the experience and embarrassment of sliding socks. Over-knee socks with non-slip silicone rings. This kind of socks can almost completely prevent the socks from sliding because of the silicone inside the socks. Has a good anti-slip effect.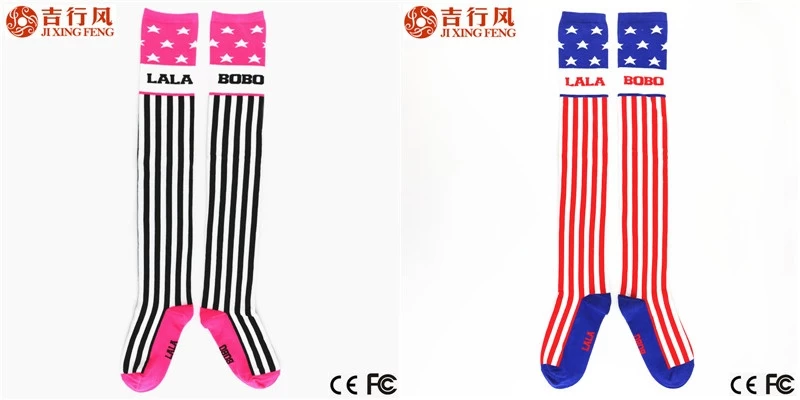 wholesale girls knee socks China


3. Non-slip sports socks (including yoga socks, trampoline socks, etc.)

Anti-slip socks for yoga. The evenly distributed rubber particles at the bottom of the socks can not only effectively prevent yoga practitioners from slipping their feet when doing activities, but also effectively protect the safety of yoga practitioners.

Trampoline socks are the same as yoga socks. The anti-slip rubber is evenly distributed on the bottom of the socks. You must wear anti-slip socks when playing on the trampoline. This is to prevent the risk of slipping during the trampoline jumping.
4. Baby toddler non-slip socks

When the baby just learns to walk, it will sway like a little penguin. At this time, you can prepare a pair of socks with anti-slip rubber at the bottom. So how should you choose anti-slip socks for toddlers? Baby toddler socks should be made of high-quality combed cotton. The cotton fabric is soft and fit, and caress the skin of the baby's feet gently. The elasticity of the sock mouth should be large, so that the heel can't fall off without strangling the foot. Non-slip soft bottom design, strong comfort, abrasion and durability. You can choose the appearance of cartoon images, fresh and cute, full of childishness.

Jixingfeng is professional cotton non skid socks factory in China,main socks have antibacterial pilates socks,anti slip stretch knit socks,anti slip stretch knit socks,hospital safefeet anti slip socks etl wholesale custom.We can undertake OEM, domestic brands and export orders. Accept small orders and retail, welcome to contact our sales staff to order skid socks of your own brand.

Contact Us
Mobile: +86-13326795658
E-mail: jixingfeng@jxffactory.com