Warm congratulations to our company for obtaining ISO9001 quality management system certification
Kobe Yin 2019-12-19 13:33:22
On November 28, 2019, Lishui Jixingfeng Knitting Factory in Nanhai District of Foshan City received a huge good news. The company was awarded the "ISO9001 Quality Management System Certification" and has now obtained the Chinese and English version of the relevant document certificates.
On November 11, 2019, the auditing officer of the certification company headed by senior auditor Zhou Tao came to our company to conduct an audit. With the company commissioner and the active cooperation of all employees, our company passed the ISO9001: 2015 quality management system certification , Which further proves the high quality level of the company's products.
Since its establishment, Lishui Jixingfeng Knitting Factory in Nanhai District of Foshan City has always adhered to the management concept of people-oriented, quality first, and the pursuit of excellence. From the perspective of customers, it has focused on creating high-quality products. Has won various honors and qualifications, and has obtained multi-party certifications, and has been well received by customers at home and abroad.
The certification of ISO9001 system has promoted the standardization, procedure and standardization of the company's internal management and laid the foundation for the company to achieve comprehensive scientific management. And has a series of positive significance:
1. Strengthen quality management and improve business efficiency; enhance customer confidence and expand market share.
2. Obtained a "pass" for international trade, eliminating international trade barriers.
3. Taking the lead in the competition of product quality, it also proves that our products have reached a higher level in research and development and service.
We believe that the establishment and implementation of the quality management system will help the company to continuously improve its quality management level and establish a good corporate image and reputation in the market competition, which is of great significance to the company's long-term development. At the same time, we also hope that Jixingfeng Knitting Factory will become stronger and stronger and continue to provide quality services to our customers !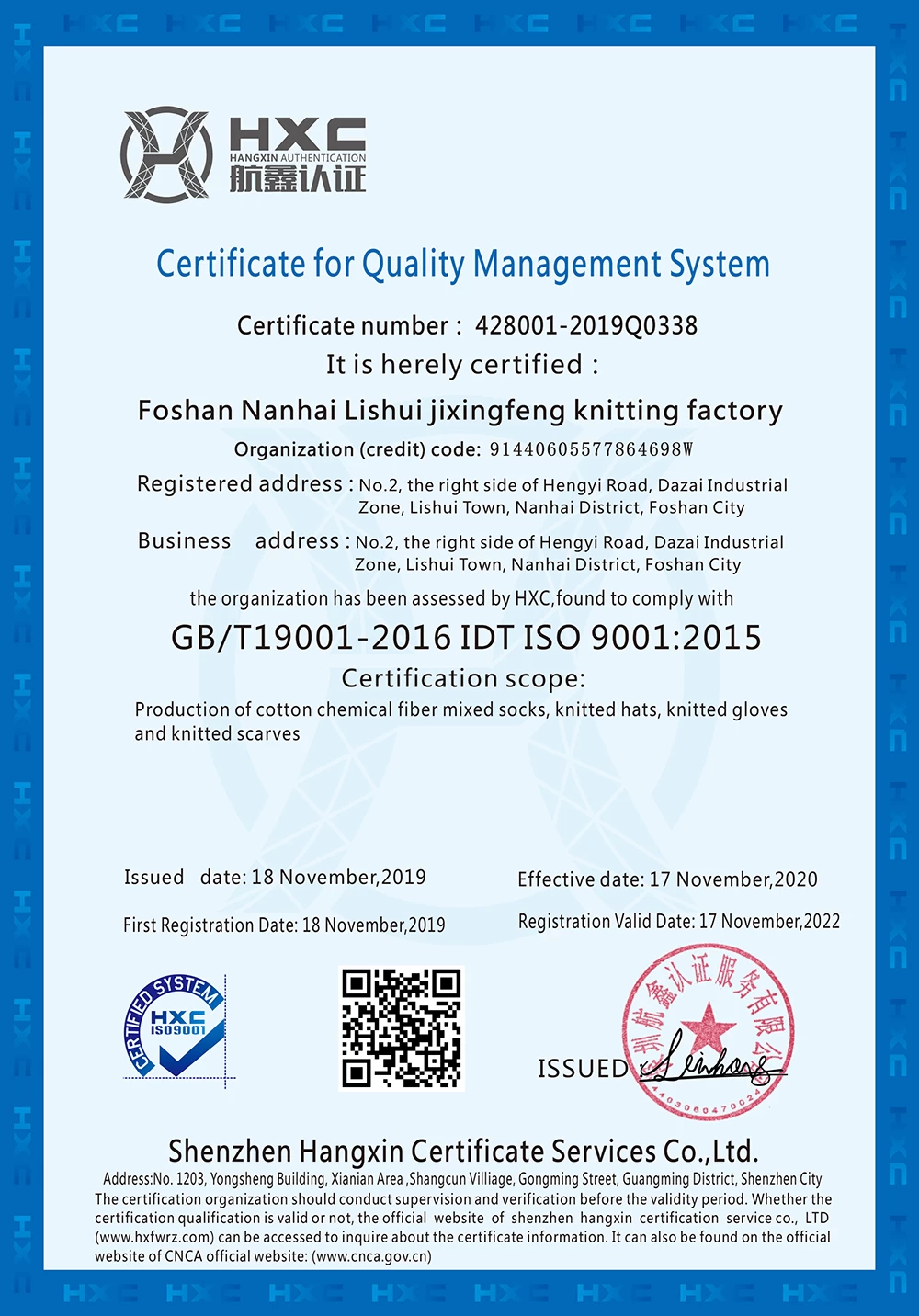 ISO 9001 socks supplier and manufacturer