How to choose socks and shoes for babies from birth to toddler
2021-10-11 14:33:47
Choose different socks and shoes at different stages
Babies never walk, toddlers, or learn to walk. Socks and shoes are different in different periods. 
1. Haven't learnt yet
Wear a pair of small socks that can protect your feet. Wear shoes for warmth only. It is required that the inside and outside, the surface and the bottom of the shoes are soft.
Tips: It is best to wear woolen shoes or socks in reverse to prevent the thread from wrapping around the baby's toes and accidental injury.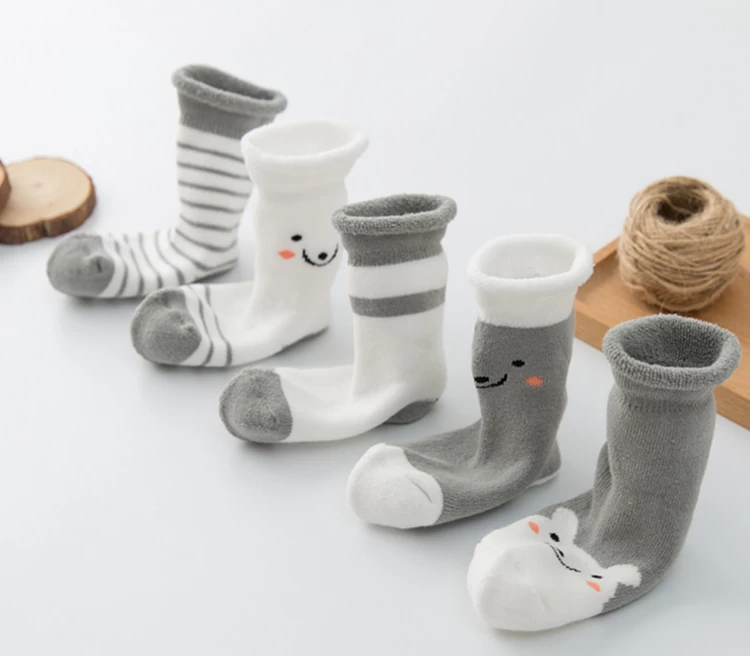 winter baby socks wholesales china
2. Toddler period (toddler shoes or non-slip socks)
(1) Shoe upper: soft, breathable, and cuddle.
(2) Insoles: a little harder (avoid sponge pads) and elastic, making the baby feel like walking on the ground.
(3) Shoe sole: soft and thin, (sole + insole) thickness <5mm, can be soft leather sole, cloth sole, etc., so that the little feet have a feeling of grip. Bend the sole to reach the toe (that is, fold it in half). In addition, it should be moderately non-slip to prevent the baby from falling.
(4) To learn to walk in a warm room in winter, you can go barefoot or wear small non-slip socks.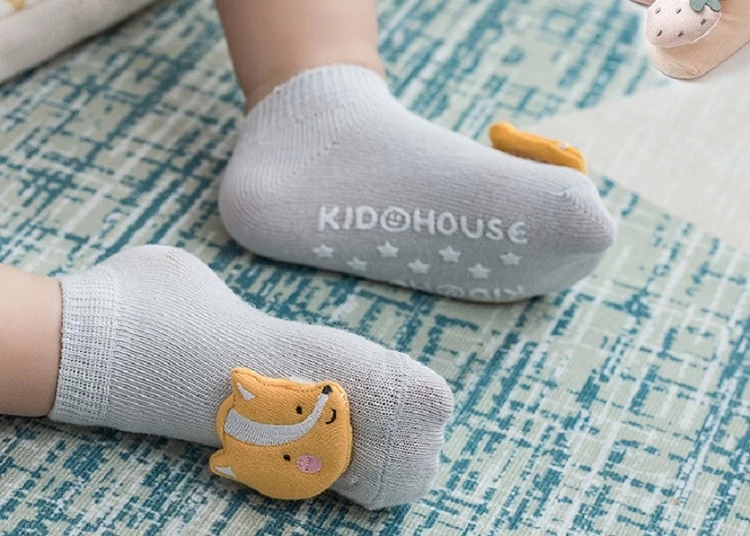 Softable newborn non slip socks supplier
3. Walk steadily (children's shoes)
(1) Toe cap: hard, can protect the baby's toe from being kicked. The toe should be wide to allow the baby's toes to stretch out.
(2) Upper: soft. Cowhide, sheepskin, cloth are all available, which is convenient for the baby's feet to bend.
(3) Shoe upper: It is hard to fix the foot in the shoe to protect the baby's ankle joint. The upper is higher than the ankle, which can prevent the baby from damaging the feet when toddlers.
(4) Heel cup: hard. It can support the arch of the foot, protect and stabilize the heel, and control the valgus of the hind foot.
(5) Insoles: hard and resilient.
(6) Sole: The suitable thickness is 5~10mm (too thick can cause foot fatigue). It must have a certain degree of hardness, but also be light, non-slip and wear-resistant. The front 1/3 of the sole (near the toe) can be bent, and the back 2/3 is slightly harder to bend, so as to adapt to the walking characteristics of toddlers.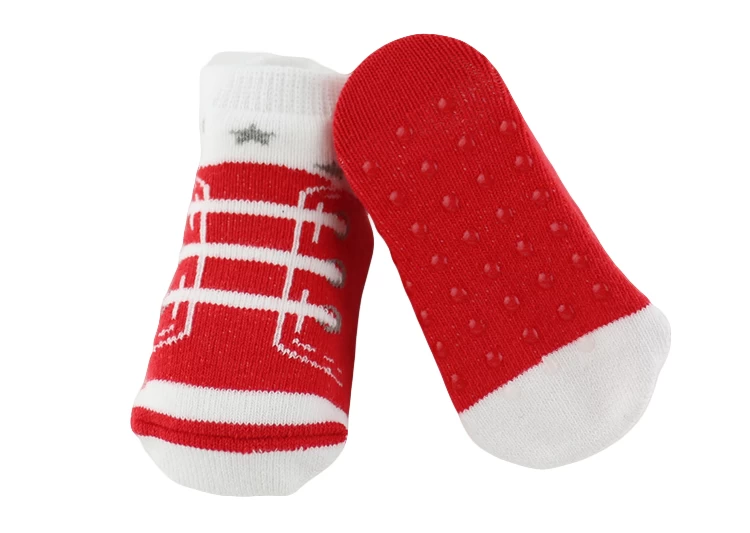 Ji Xing Feng company is oem baby terry socks factory,We can custom wholesale baby 3D socks with dolls,newborn non slip socks,wholesales 12-24 toddler months running socks etc.